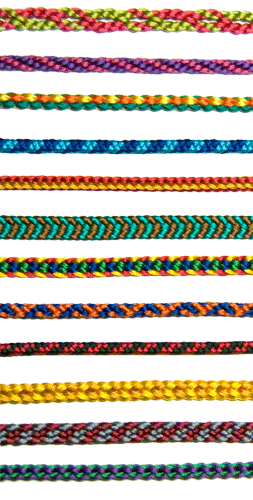 Pieces of Eight
A Treasure Chest of Braids with 8 Tama
Ever wish you could try braiding on a maru dai before investing in traditional equipment? Have you enjoyed using the Hanamaka disc or plate and want to expand your repertoire of braid structures? Need to learn more about how to use the maru dai you already have? Then this is a great class for you!
Come explore the wide variety of braid structures - round, square, oval, flat, hollow, and novelty shapes - that can be created using only eight tama on the maru dai. This intensive class will show you the basics of maru dai braiding, including set up methods, eight-tama structures, diagram reading, and more.
What you will need:
All supplies — including an instruction book that's yours to keep — and equipment are provided for up to 12 students. Additional students who are able to bring their own maru dai and tama are welcomed.
Interested in scheduling a class?
Contact me for more information!