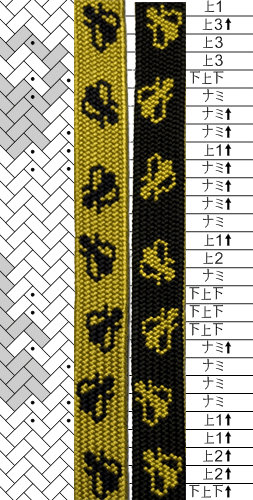 The ABCs of Ayagaki
Drafting Double-Layer Pickup Braids
Nimai Kourai Gumi is a double-layered technique in which two separate 2-2 twill braids are constructed simultaneously, one above the other. The image on the upper braid is achieved by interchanging the elements from one braid with the corresponding elements from the other, which creates the negative image on the reverse side. In this class you will learn both how to achieve the double-layer pickup braid, but also how to draft the ayagaki, or instruction charts, for designs of your own.
This class requires a bit more floor space in the classroom than maru dai classes because of the size of the equipment. Available space may limit the number of students in the class.
What you will need:
Taka dai & tou (sword), 60 tama of at least 70g. Other supplies are provided. A very limited number of taka dai may be available for use during the class. Please ask when you enroll if you will require equipment.
Interested in scheduling a class?
Contact me for more information!